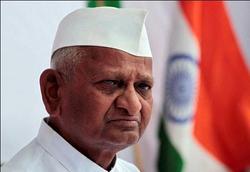 Last week, a person called Anna Hazare came into news when he started started a 'fast unto death' to exert pressure on the Indian Government to enact a strong anti-corruption act as envisaged in the Jan Lokpal Bill, a law that will establish a Lokpal (ombudsman) that will have the power to deal with corruption in public offices. This fast led to country wide protests in support of Hazare. However his fast ended on 9 April 2011 as all of his demands of the movement are agreed by the Government of India. The Government issued a gazette notification on formation of a joint committee headed by senior minister Pranab Mukherjee to draft an effective Lokpal Bill. Let's try to know more about this great man, Anna Hazare.
His full name is Kisan Bapat Baburao Hazare. He was born on 15 January 1940 in a small village called Bhingar in Maharashtra. He is now popularly known as Anna Hazare. He is an Indian social activist who is especially recognized for his contribution to the development of Ralegan Siddhi, a village in Parner taluka of Ahmednagar district, Maharashtra, India and his efforts for establishing it as a model village. He was also awarded the Padma Bhushan by the Government of India in 1992.
His early life was not too good. His father Baburao Hazare worked as an unskilled labourer in Ayurveda Ashram Pharmacy. In 1952 Anna's father resigned from his job and returned to his own village, Ralegan Siddhi. At that time Anna had completed his education upto 4th standard and had six younger siblings. It was with great difficulty that Anna's father could make two ends meet. Anna's aunt (father's sister) took Anna to Mumbai. She was childless and she offered to look after him and his education.
Anna studied upto the 7th standard in Mumbai. He took up a job after the 7th standard in consideration of the economic situation back home. Anna's father at Ralegan had to work as a daily wage labourer and found it difficult to sustain his family. He was slipping deeper and deeper into debt. He had to sell off one part of his land and mortgage the other. Anna started selling flowers at Dadar in order to make his living. But Anna's working at somebody's shop for 40 a month was not enough. After gaining some experience, he started his own shop and even brought two of his brothers to Mumbai. Gradually Anna's income went up to 700 to 800 per month.
In a couple of years Anna fell into bad company and started wasting his time and money on vices. He also started getting involved in brawls and fights, especially when he found some simple person being harassed by goondas. He became irregular in sending money to his family. The word went around in Ralegan that he had become a bad character himself. In one such fight, Anna bashed up a person rather badly. Fearing arrest, he avoided coming to his regular work and residence for some time.
In April 1960, he appeared in Army recruitment interviews and was selected to join the Indian Army. He started his career as a driver in the Indian Army. He spent his spare time reading the books of Swami Vivekananda, Mahatma Gandhi and Acharya Vinoba Bhave that inspired him to become a social worker and activist. During the Indo-Pakistani War of 1965, he was the only survivor in a border exchange of fire, while driving a truck. During the mid-1970s he was again involved in a road accident while driving.
After voluntary retirement from the army, Hazare came to Ralegan Siddhi village in 1975. Initially, he organized the youth of the village into an organization named the Tarun Mandal (Youth Association). He also helped to form the Pani Puravatha Mandals (Water Supply Associations) to ensure proper distribution of water.
In the early 2000s, Anna Hazare led a movement in Maharashtra state, which forced the Government of Maharashtra to repeal the earlier weak act and pass a stronger Maharashtra Right to Information Act. Law professor Alasdair Scott Roberts mentions,
" The state of Maharashtra – home to one of the world's largest cities, Mumbai, adopted a Right to Information Act in 2003, prodded by the hunger strike of prominent activist, Anna Hazare. ("All corruption can end only if there is freedom of information," said Hazare, who resumed his strike in February 2004 to push for better enforcement of the Act)."
This Act was later considered as the base document for the Right to Information Act 2005 (RTI), enacted by the Union Government. It also ensured that the President of India assented to this new Act.