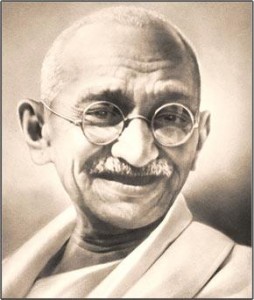 Today is Gandhi Jayanti. So I have decided to tell you 10 interesting things about Gandhi. Mohandas Karamchand Gandhi is the most important political figure of modern India. He was the chief leader of India in its independence movement. He was the pioneer of Satyagraha—resistance to tyranny through mass civil disobedience, firmly founded upon ahimsa or total non-violence—which led India to independence and inspired movements for civil rights and freedom across the world. He is known as Mahatma, the holy spirit. He is officially honoured in India as the Father of the Nation, even his birthday, 2 October, is celebrated as Gandhi Jayanti, a national holiday, and world-wide as the International Day of Non-Violence. Today I will tell you 10 interesting things that we should know about Gandhi. So here comes the list.
He was married to Kasturba when he was only 13 years old in May 1883, as a part of an arranged child marriage.
In South Africa, Gandhi faced discrimination directed at Indians. Even he was thrown off a train at Pietermaritzburg, after refusing to move from the first class to a third class coach as he was holding a valid first class ticket.
Gandhi's first major achievements came in 1918 with the Champaran agitation in Bihar and Kheda Satyagraha.
Time magazine named Gandhi the Man of the Year in 1930. He was also the runner-up to Albert Einstein as "Person of the Century" in 1999.
Gandhi never received the Nobel Peace Prize, although he was nominated five times between 1937 and 1948.
Gandhi influenced important leaders and political movements. Leaders of the civil rights movement in the United States, including Martin Luther King and James Lawson, drew from the writings of Gandhi in the development of their own theories about non-violence. Anti-apartheid activist and former President of South Africa, Nelson Mandela, was inspired by Gandhi. Others include Khan Abdul Ghaffar Khan, Steve Biko, and Aung San Suu Kyi.
Gandhi spent one day of each week in silence. He believed that abstaining from speaking brought him inner peace.
Towards the end of his life, Gandhi started sharing his bed for a number of years with young women as a part of his experiments on Brahmacharya
Gandhi dedicated his life to the wider purpose of discovering truth, or Satya. He tried to achieve this by learning from his own mistakes and conducting experiments on himself. He called his autobiography "The Story of My Experiments with Truth". If you want to know more about Gandhi, I would recommend you to read this book.