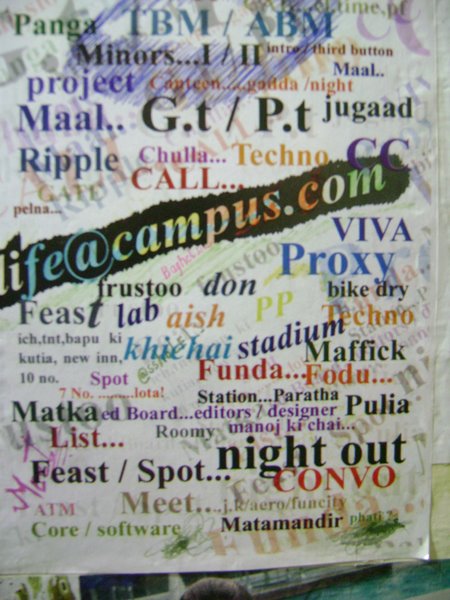 On 20th April 2007, I attended my last lecture in MANIT Bhopal. The day was quite memorable and sentimental for the whole computer science class of 2003-2007. In our college there is a tradition of writing short messages on the shirts of others as a farewell. Thus on my t-shirt almost everyone has written some short messages. It is not possible for me to keep that shirt for a long time that's why I have decided to post all those messages on my blog so as to always remember what are the opinion of my class-mates about me. So let's begin 🙂

Piyoosh Hemnani, Arvind — Baap bara na bhaiya Sabse bada rupaiya.(It means money is most important thing for you)
rupaiya(Indian Currency) refers to my web portal www.100rupees.com )
Akshay Bhatt — Website Guru ! Pentium 5
Madhur Gupta — Abe fenkaa kam kar…. Bihari Sher.. but always helping best of luck for Wipro
Ajay Pathak — Web Developer Abhishek (We were in College website team)
Sarthak Jain — Great Blogger
Neelotpal Kumar — Think once more before your speak
Abhishek Sonane — Best of Luck, always work hard like this.
Priyanka Raj — Website Specialist
Meetali — Hope you will make 1 million dollar by 100rupees. all the best
Nanad — Abhishek 100rupees.com will be the most successful site ever made.
Sudipto –The Guru Teck. Missing U
Manish — Bakar Samrat (Bakar mean excessive talk and samart means king)
Ragini — My permanent laby jisne mera bahut sar khaya(caused a number of problems). She also wrote something more but now it can't be found on the shirt.
Abhiram — Kabhi to copy band kar Abhi rocks
Arshad — Muzaffarpur ka ser(tiger)
Sandeeep — 1million.com kab banaoge ? (When will you launch 1million.com)
Srninivas — Very Straightforward, very friendly. Keep Smiling
Rahul Moghe — Page rank 3 hone par party dena. Best of Luck.
Bhupendra — Abhishek You are great
Anamika — 4 saal mein bhi nahi badle waise hi blank luk dete Mr. phodu.. Good luck. keep Smiling. With love.
Ashish Khatri — Hacker of CSE MANIT
Nishant — Kabhi Kabhi Naha liya kar, Mast ho Yaar, aur thoda insaan ban jaa (actually Nishant lives next to my room)
Riju — Mast ho yaar Bihari Ji
Vivek — Most Confident Person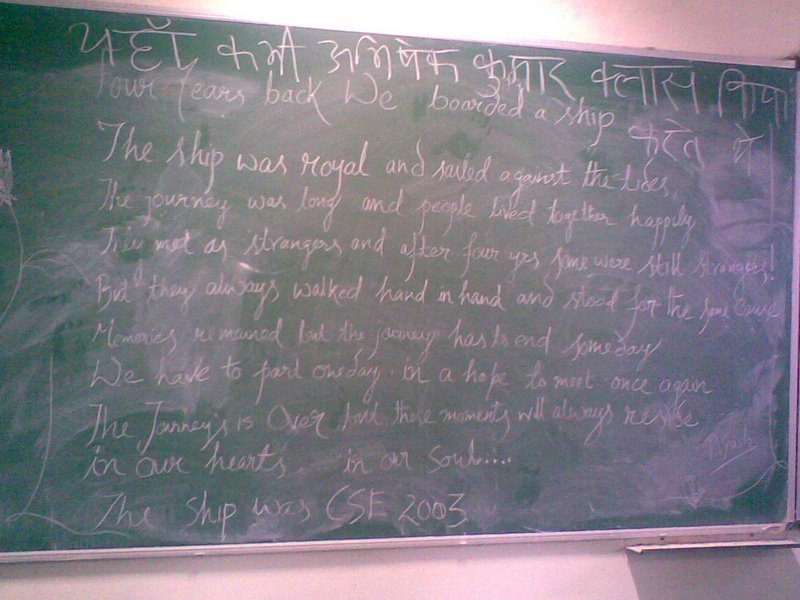 Deepti — Lucky & intelligent guy. May you always find person like Ragini in front of you. Good luck
K.S Praveena — Best Wishes 4 ur 100rupees.com. Hope u achieve everything in life
Atul Jain (Panna) Powered by 100rupees.com
Ravindra — Long life for my brother
Piyush — Honey, Always fill your pocket with money.
Arghya — PampaSur( I created Pampa Puran ), BakarSamrat
Other friends of mine like Siddhartha, Shivam, Ravitesh, Gagan and my juniors vivek, abhishek and many others also wrote some messages.
Siddhartha — luv u yaar
Shivam — I luv u Keep Smiling
Gagan — Best Guy
Ravitesh –U r nice, Cool, Suttebaaz luv u boom…..
Vivek — Aaj to propose kar do, Bear Chicken ki Treat kab de rahe ho, Sutta powered by 100rupees.com
Abhishek Pradhan — Guruji Don't forget us and Cigg
I am unable to find out the name of persons who wrote some nice messages, too. Those messages are
Best work done in college, akele khud ke dum par.
Bakar No. 1 Thoda Kam Phenka Kar.
Abhishek Kumar from Muzaffarpur
phoduabhi.com
Bihari Topper
Abhe chalo naa GT hai
I have tried my best to find out most of the messages on my shirt. Rest messages are completely invisible.