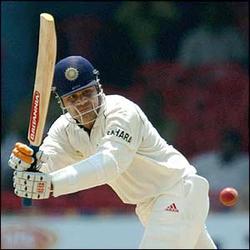 Sometimes they say that test matches are becoming boring these days but there is one man who doesn't care about what they say. It doesn't even matter to him that he is playing a Test match or ODI or Twenty 20. He plays his natural game in all the formats and is the most feared batsmen among all bowlers over the world. It was the second day of the third test match between India-SriLanka, when Indian swashbuckler Virender Sehvag almost single handedly changed the face of the game.
It was not the first time that Sehvag has rattled the opponent but the pace with which he scored runs today was fantastic. He scored nearly 300 runs alone (284 not out) out of 79 overs bowled in Indian innings. And even a hurting back couldn't slow him down. He batted like the Arabian Sea in high tide near to Brabourne stadium.
He averages around 53 with a strike rate of nearly 80, in test cricket and that is most important part of his batting. Most of the batsmen have strike rate of 80 in one day cricket whereas Sehvag in Tests.He falls into the category of Sir Donald Bradman and Brian Charles Lara who had scored a triple century on two occasions. And if he is lucky enough tomorrow then he may also surpass these two greats in terms of scoring triple centuries.
And this was no monotonous power hitting, but a delightful exercise in finding gaps through defensive fields for most of the innings. It was like Twenty20 highlights, but with the batsman playing lovely inside-out chips, straight lofts, reverse-sweeps to beat leg-side fields, flicks to beat off-side fields, and Sehwag has his innings visualised.
Virendra Sehwag Poster ::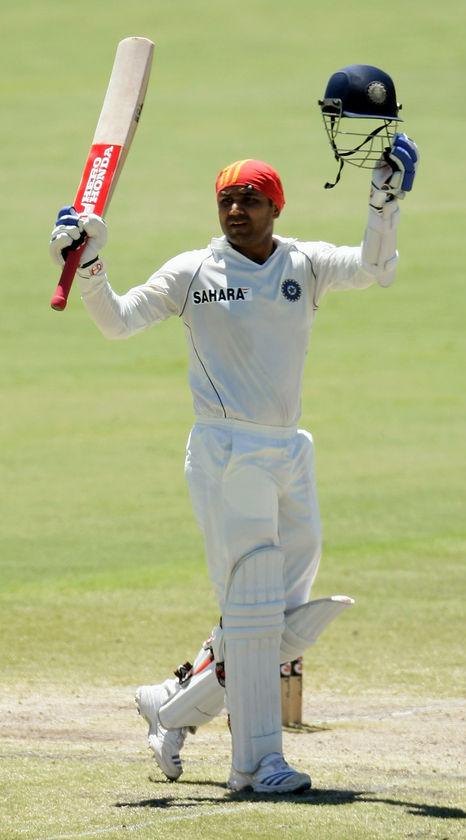 Virendra Sehwag's Career Records as on 3rd Dec 2009 —
| | | | | | | | | | | | | | | |
| --- | --- | --- | --- | --- | --- | --- | --- | --- | --- | --- | --- | --- | --- | --- |
| | Mat | Inns | NO | Runs | HS | Ave | BF | SR | 100 | 50 | 4s | 6s | Ct | St |
| Tests | 71 | 122 | 4 | 5955 | 319 | 50.46 | 7513 | 79.26 | 16 | 19 | 845 | 68 | 55 | 0 |
| ODIs | 211 | 206 | 8 | 6730 | 130 | 33.98 | 6592 | 102.09 | 11 | 35 | 924 | 110 | 80 | 0 |
| T20Is | 12 | 11 | 0 | 223 | 68 | 20.27 | 154 | 144.80 | 0 | 1 | 24 | 10 | 1 | 0 |
| First-class | 134 | 222 | 8 | 10442 | 319 | 48.79 | | | 30 | 37 | | | 114 | 0 |
| List A | 281 | 271 | 13 | 8683 | 130 | 33.65 | | | 12 | 52 | | | 104 | 0 |
| Twenty20 | 50 | 49 | 4 | 1163 | 94* | 25.84 | 742 | 156.73 | 0 | 7 | 139 | 45 | 8 | 0 |