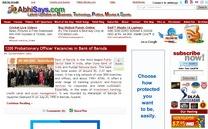 Last week, abhisays.com completed 3 years on internet. Now abhisays.com has more than 1200 articles, 4000 comments, 1300 daily mail readers, more than 8 lakh visitors per month. Its alexa world ranking is 21000, India ranking is 1400. Moreover, it has its own music edition which contains around 700 carefully selected melodious Hindi songs which is definitely a big boost for its traffic. All these figures look attrative but still we believe that AbhiSays has to cover a long way to become one of the top blogs of World.
Last month we started a separate discussion zone for its readers where they can discuss current affairs, politics, movies, music, companies, jobs, walkins, technologies, gadgets, competitive exams questions, programming and anything related to your day to day life. Earlier abhisays was US centric website but not its more than 70 % traffic comes from Indian subcontinent which signifies the tremendous growth opportunites in this market.
This website has opened up great opportunities for us in internet world and gave us both money and recognition.We have always got really nice feedback and comments on our articles. Thanks to all of you who helped AbhiSays.com to reach this destination.
Now what NEXT? What is the future of AbhiSays.com?