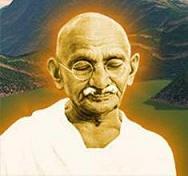 Besides being the greatest leader of 20th century, Mahatma Gandhi was a good writer and author of several books. He was editor of a newspaper called Harijan in Gujarati, Hindi and English, Indian Opinion while in South Africa and, Young India, in English, and Navajivan, a Gujarati monthly, on his return to India. In addition, he wrote many letters almost every day to individuals and newspapers. Gandhi also wrote his autobiography, An Autobiography of My Experiments with Truth, Satyagraha in South Africa about his struggle there, Hind Swaraj or Indian Home Rule, a political pamphlet, and a paraphrase in Gujarati of John Ruskin's Unto This Last. He also wrote extensively on vegetarianism, diet and health, rural reforms, Gita, religion, social reforms, etc. Gandhi usually wrote in Gujarati, though he also revised the Hindi and English translations of his books. Gandhi's complete works were published by the government of India under the name "The Collected Works of Mahatma Gandhi" in the 1960s.
These are the books written by Mahatma Gandhi ::
These are Compilations of Mahatma Gandhi's Writings
A Gandhi Anthology – Part I
A Gandhi Anthology – Part II
Constructive Programme – Its Meaning And Place
Epigrams From Gandhi
Ethical Religion
From Yeravda Mandir (Ashram Observances)
Mohan Mala (A Gandhian Rosary)
My Views on Education
Selected Letters
The Gita According To Gandhi
The Moral Basis Of Vegetarianism
The Teaching Of The Gita
The Words Of Gandhi
Towards New Education
Trusteeship
Character & Nation Building
Discourses On Gita
Gandhiji Expects
India Of My Dream
Industrial And Agrarian Life And Relations
Key To Health
My God
My Religion
Truth is God
Nature Cure
Panchayat Raj
Pathway To God
Prayer
Ramanama
Satyagraha In South Africa
Self Restraint Vs. Self Indulgence
The Essence of Hinduism
The Law And The Lawyers
The Message Of Gita
The Way To Communal Harmony
Truth Is God
Village Industries
Village Swaraj
"I have nothing new to teach the world. Truth and non-violence are as old as the hills" Gandhi.