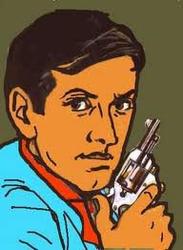 I love reading mystery and detective novels, which are full of suspense, drama and thriller. There are many mystery novels that are written by various famous writers and many movies are formed on such novels. The detective novels are real fun to read on. One never gets tired of reading such novels. However, mystery novels are uncommon in Indian literature. There are very few names so most of the Indian readers have to go for English adventure novels or stories such as Sir Arthur Conan Doyle's Sherlock Holmes, Agatha Christie, Edgar Allan Poe's short stories, James Hadley Chase etc. Most of the Indian detective characters including Byomkesh Bakshi, are inspired with from Sherlock Holmes but Satyajit Ray's Feluda is completely different and original. Feluda series contains Ray's short stories featuring the private ivestigator Feluda and his companions topshe and jatayu.
Feluda :: The real name of Feluda is Pradosh Chandra Mitter. Feluda is a collection of around 35 short stories written by the famous Indian Bengali film director and writer Satyajit Ray. The character made his debut in 1965 in the popular Bengali children's magazine Sandesh that Ray edited, beloved by a big Bengali community. So Feluda is a private detective who lives at 27, Rajani Sen Road, a middle class suburb in Southern Calcutta. Feluda is portrayed as a man of around 27 with a tall (6'2″), athletic figure. Despite being a strongly built man adept in martial arts, Feluda relies mostly upon his superb analytical ability and observation skill (jokingly referred to as the 'Magajastra' or brain-weapon) to solve cases instead of using physical strength or weapons. He is very choosy about taking up cases and prefers cases that require cerebral effort. He possesses a .32 Colt revolver, but the weapon is used very infrequently and mostly for non-violent purposes.
Feluda's friends ::
Tapesh Ranjan Mitra :: He is Feluda's cousin. In the story, he is fondly referred to as Topshe. He is based on Arthur Conan Doyle's conception of John Watson. Just like the former army surgeon, Topshe is the quintessential accomplice and faithfully records each of Prodosh Mitra's exploits accurately. Though Feluda often teases his young cousin, he is extremely fond and very protective of him. Feluda lives with Topshe's family. Topshe's father is the younger brother of Feluda's father, and therefore his uncle, and they all reside at 21, Rajani Sen Road, Kolkata-700029. Although there really is a 'Rajani Sen Road' in Kolkata, the house number is missing.
Jatayu, Lalmohon Ganguli or Lalmohon Babu, is a close friend of Prodosh Chandra Mitra, and is described as the author of a series of Bengali crime thrillers written under the pseudonym 'Jatayu'. His crime stories novels are usually derided as unbelievable, considering that his main character is always the six-and-a-half foot tall superhero Prakhar Rudra. Though all his novels seem to have become bestsellers, he often tends to make extremely silly mistakes such as spelling igloos as 'ilgoos'. In Baksho Rahasya or Mystery of a box, he confuses hippos with walruses – a tendency that Feluda often tries to correct. He sometimes serves as a perfect foil to the group and in Ray's own words provides 'dollops of humour', although he sometimes does some brave acts not expected of him. He owns a 'Madrasi green' Ambassador car. Jatayu makes his first apeparance in Sonar Kella joining Feluda and Topshe in the train at Delhi, on their way to Jodhpur.
Sidhu Jyatha, whose formal name is Shiddeshwar Basu, is an aged character who has described himself to be like Sherlock Holmes's brother Mycroft, living on Sardar Sankar Road, Lake Market, Kolkata. He is a bibliophile, and has an extensive base of general knowledge, current and historical affairs. He is a close friend of Feluda's father, being neighbours in their ancestral village at Bangladesh. Feluda's jyatha (that is, uncle) is said to have a 'photographic memory', and is a vast source of information which comes in handy when Feluda is in need of some. His vast knowledge comes from his collection of varied kinds of newspaper clippings which he has accumulated over the years.
Feluda Short Stories
"Feludar Goendagiri" (1965, Sandesh; English title "Feluda's Investigation")
"Bombaiyer Bombete" (Autumn 1976, Desh; English title "The Buccaneers of Bombay")
"Gosainpur Sargaram" (Autumn Special 1976, Sandesh; English title "The Mystery of the Walking Dead")
"Ebar Kando Kedarnathey" (1981; English title "Crime in Kedarnath")
"Napoleon er Chithhi" (1984; English title "Napoleon's Letter")
"Apsara Theatre er Mamla" (1987; English title "The Case of the Apsara Theatre")
"Bhuswarga Bhayankar" (1987; English title "Peril in Paradise")
"Golapi Mukta Rahashya" (1989; English title "The Mystery of the Pink Pearl")
"London ey Feluda" (1989; English title "Feluda in London")
"Kailash Choudharyr Pathar" (English title "Kailash Chowdhury's Jewel")
"Ghurghutiyar Ghatana" (English title "The Locked Chest")
"Samaddarer Chabi" (English title "The Key")
"Sheyal Debota Rahasya" (English title "The Anubis Mystery")
"Ambar Sen Antardhyan Rahasya" (English title "The Disappearance of Ambar Sen")
"Jahangirer Swarnamudra" (English title "The Gold Coins of Jehangir")
"Golokdham Rahasya" (English title "Mystery at Golok Lodge")
"Bosepukure Khunkharapi" (English title "The Acharya Murder Case")
"Shakuntalar Kanthahar" (English title "Shakuntala's Necklace")
"Indrajal Rahasya" (English title "The Magical Mystery")
"Dr Munshir Diary" (English title "Dr Munshi's Diary"}
Feluda Novels
"Badshahi Angti" (1966; English title "The Emperor's Ring").. Buy this book
"Gangtokey Gandagol" (1970; English title "Trouble in Gangtok")
"Sonar Kella" (1970; English title "The Golden Fortress")
"Bakso Rahashya" (1972; English title "A Mysterious Case")
"Kailashey Kelenkari" (1973; English title "A Killer in Kailash")
"Royal Bengal Rahashya" (1974; English title "The Royal Bengal Mystery")
"Joi Baba Felunath" (1975; English title "The Mystery of the Elephant God").. Buy this book
"Gorosthaney Sabdhan" (1977; English title "Trouble in the Graveyard")
"Chhinnamastar Abhishap" (1978; English title "The Curse of the Goddess")
"Hatyapuri" (1979; English title "The House of Death")
"Jato Kando Kathmandutey" (1980; English title "The Criminals of Kathmandu")
"Tintorettor Jishu" (1982; English title "Tintoretto's Jesus")
"Darjeeling Jamjamat" (1986; English title "Danger in Darjeeling")
"Nayan Rahashya" (1990; English title "The Mystery of Nayan")
"Robertson er Ruby" (1992; English title "Robertson's Ruby")
Buy the Complete Adventures of Feluda from flipkart :: All the Feluda stories that Ray wrote are now available together in this two-volume omnibus edition. For the first time ever, the stories are arranged in chronological order, and one can trace Feluda's development from an unknown amateur detective to a professional private investigator.
The Complete Adventures of Feluda, Volume 1
The Complete Adventures of Feluda, Volume 2
Satyajit Ray directed Sonar Kella and Joi Baba Felunath into movies in Bengali, starring actor Soumitra Chatterjee as Feluda, Santosh Dutta as Jatayu and Siddhartha Chatterjee as Topshe. Until 2010, Sandip Ray (Satyajit Ray's son) has directed five Feluda films
Baksho Rahashya (2001)
Bombaiyer Bombete (2003)
Kailashey Kelenkari (2007)
Tintorettor Jishu (2008)
Gorosthaney Sabdhan (2010)
Feluda Gaan :: The song written by Kabir Suman was first publicised at Sandesh magazine on the special Feluda 30 issue released on December,1995 on the completation of 30 years of Feluda Stories. Later in a collaborative album by HMV "Choto Boro Miley"(1996) the song was composed and performed by three legend Singer-Song-writer Kabir Suman, Nachiketa Chakraborty and Anjan Dutta.
Feluda Theme Music ::
Feluda Sketch