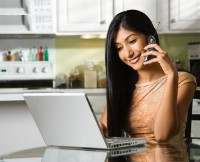 I am not joking. It is now possible to get a free laptop in India. Just you need to get an internet connection. Reliance Communication has launched a nice plan for internet users. Just subscribe to their net connection for Rs 1500 every month only and get a free laptop. Moreover, there will not be any hidden cost. You will have to pay this amount only for two years and the laptop will be yours. For giving free laptop to its internet users, Reliance Communications has done strategic agreement with five leading laptop manufacturers of India – HCL, Intel, Acer, Asus and Lenovo. According to company's spokesperson more details regarding availability, schemes and pricing are expected to be released shortly.
"The growth of Internet services in India is one of the key visions of Reliance Communications. The next phase of growth of Internet penetration in the country is linked to the growth in PC and Laptop penetration offering an opportunity to empower all Indians by making the overall cost of Internet access more affordable," said Mahesh Prasad, President – Reliance Communications.
Reliance NetConnect is India's one of the leading wireless internet service providers,with over One Million customers, available across 20,000 towns and 4.5 lakh Indian villages. I am very happy with this new plan of Reliance, this will definitely boost the growth of internet users in India.