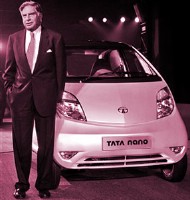 The present Chairman of the Tata Group, Ratan Tata is now in the list of 73 biggest brains in business for his innovation of 1 lakh rupee Nano car. A US business magazine Conde Nast Portfolio, has published the list of 73 biggest brains of business. Other important business tycoons in this list are Bill Gates, Rupert Murdoch, Warren Buffet, Larry Page and Sergey Brin. According to the magazine Ratan Tata believes that the future of the auto industry lies in the hands of people who don't yet drive. Through this innovation and new idea Tata Motors has inspired other Auto companies. For example, Nissan-Renault is going to launch $ 3k car with the help of India's Bajaj Auto.
"Brilliance comes in many forms, whether it is founding a startup that kicks sand in Microsoft's face or creating an affordable car for the developing world. A small number of innovators influence the rest of the influencers in business," Conde Nast Portfolio.
Ratan Tata became a global business leader when Tata acquired Corus Group and as a result of this merger, Tata Steel became the fifth largest steel producing company in the world.
Launching a 1 lakh rupee car was his old dream which he realized in January, 2008 when three models of the Tata Nano were announced. Ratan Tata delivered on his commitment to developing a car costing only 1 lakh rupee. He always says "a promise is a promise," and he has done what he promised to those people of India who have never driven a car. Kudos to him for being one of the biggest brains of World business.