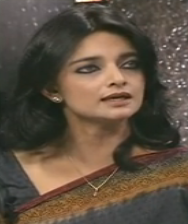 On Monday The Hindu published an article naming "Behind Robert Vadra's fortune, a maze of questions". In the article Shalini Singh, Deputy Editor The Hindu, excellently articulated and raised the grey areas between the relationship of DLF, a real-estate giant and Robert Vardra, son-in-law of Sonia Gandhi. In my opinion, it was the best journalistic investigation of the claims made by Kejriwal and Bhushan. Shalini Singh's analysis was mind boggling and a big blow to DLF, Robert Vadra and the Gandhi family. I think, with this article, she is able to maintain the Hindu's high standards of ethical, classy and objective journalism.
She must be appreciated for such a detailed and impartial report on this scandal. Unlike many so called free TV Channels and expert commentators, she has raised several questions that merit answers, rather than accusing anyone of wrong-doing or corruption.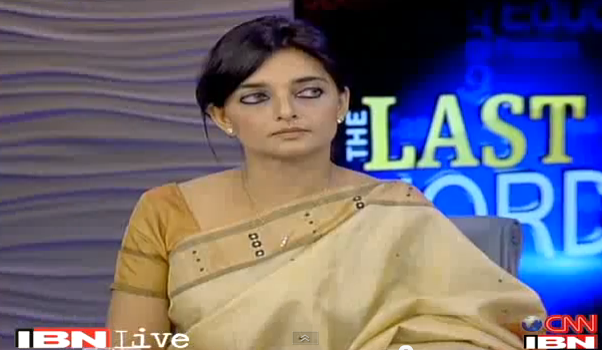 Before joining The Hindu as the deputy editor, she worked as a senior assistant editor at The Times of India in New Delhi. There she consistently exposed financial crimes, including most notably the Rs 1.76 lakh crore 2G spectrum scam.
Shalini Singh and her article got great response on Twitter also ::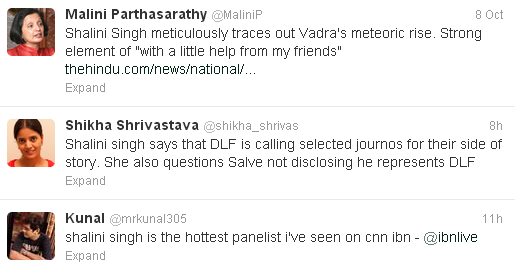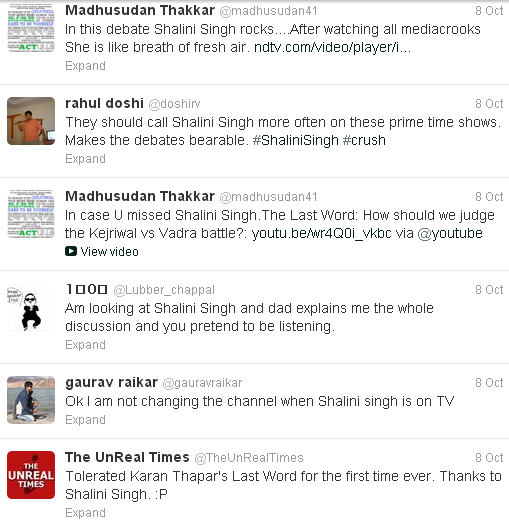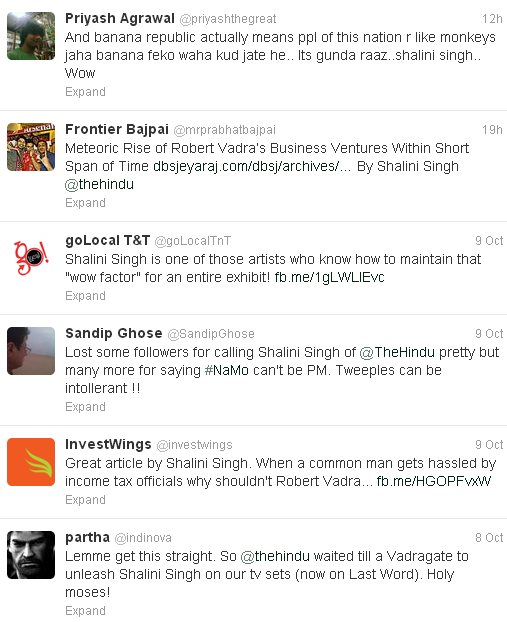 She also got great commendation from The Hindu readers.
Excellent pieces that explain the rise of Robert Vadra's .. !
Thanks Shalini Singh ma'am for fearless journalism .. !!
from:  Anuj Tiwari

Glad Hindu is maintaining its numero ono position in Investigative journalism. Right from Bofors thro' Chitra subramanyam , there is lot of hard work in exposes. Unlike media which is today bending backwards to be friendly with Establishment!
from:  ERR

Well written article. Hindu should forward to:
1. P.Chidambaram so that the Finance Minister opens his eyes and comes our of his dream from Lala land and act in a manly way for to protect the interest of common man
2. To Company Law Board to thoroughly review the activities of both DLF and Vadra.
3. To Income Tax Department for proceeding agaist Vadra and DLF to assess any tax evasion and ensure it is collected.
4. To Fraud Office to see any money laundering and nefarious activities are conducted by Vadra and DLF.
5. To Institute of Chartered Accountants to investigate the auditors of both Vadra companies and DLF.
from:  Daven

Well! Those Bofors days, it was Chithra Subramaniam. Now it is the turn of Ms.Shalini
Singh to become the PAG. (Public Auditor General.
from:  Soundararajan Srinivasa

Excellent article, the editor/writer has gone into such details, perhaps the auditor of the company should have gone into. I saw the deputy editor's debate on NDTV yesterday, and I must say she has everything to be the nation's good journalist.
from:  Nilesh

This is really a Bold Journalism!! Hardly there is any newspaper in India that could match this standard. Congrats Hindu!!from:  Ramakrishnan

A well written and researched article. Mr. Vadra's case is one of those where everyone knows for sure that things are fishy but they choose to remain silent because of his political links. I remember reading about 'The son-in-law of India' in the VVVIP list at Indian airports with the likes of Presidents and prime-ministers. I can only hope that the wrong-doers are brought to justice soon.
from:  Nilkanth

Sir, your paper has done a commendable job of putting the facts in front of the people rather than publishing mere statements of people like a mouthpiece. I hope you continue to do this laudable job without falling to the lows of the other so called national news papers.
from:  Sarma

Well done Hindu – I was waiting for Hindu's take on this. And as expected it is detailed and factual.
from:  Arun

Kudos to The Hindu and Shalini Singh for such a detailed and impartial report. I love the bold reporting done by The Hindu.
from:  Balaji

I really commend and appreciate your article on the Vadra affair. As a financial analyst I can understand a great deal of what you have revealed. This is absolutely disgusting corruption. There should be a free and fair investigation not just on the financial angle, but also possible massive money-laundering, involvement of other politicians in this case, and I think the auditors involved should be investigated. "The Hindu" had exposed the Bofors issue and Rajiv Gandhi. I hope it will display the same pugnacious spirit in following up on this matter and expose the Sonia Gandhi family. While I do not agree with Mr Ram's political views, I believe he is one of the few journalists in India who is fearless in exposing corruption in high places. Well done, "The Hindu"!!!
from:  shan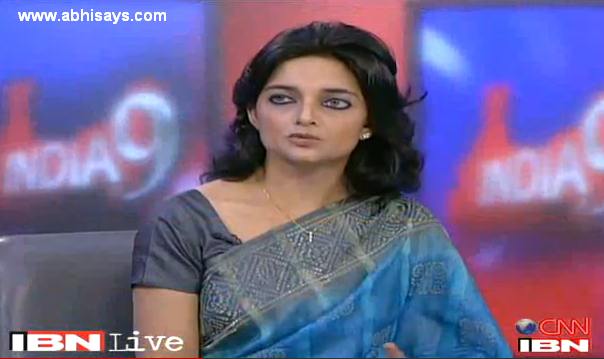 To discuss Robert Vadra's scandla, she participated in Karan Thapar's The Last Word on CNN-IBN
Today Shalini Singh also appeared on NDTV Hindi ::
Read the complete article, Behind Robert Vadra's fortune, a maze of questions