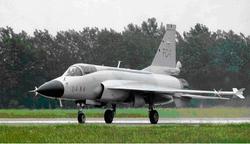 India joined the select club of countries making a fighter jet from scratch when Indian Air Force (IAF) flew for the first time the lightweight indigenous multi-role Light Combat Aircraft (LCA) Tejas in a clear wintry sky for initial operational clearance (IOC). The aircraft has been developed over a period of three decades and was embroiled in numerous red tapes. It has finally got its go-ahead in the proud presence of Defence Minister A K Antony and Air Force chief Air Chief Marshal P V Naik.
Being India's much-awaited project, LCA design and development by the Defence Research and Development Organisation (DRDO) and Hindustan Aeronautics Limited (HAL) was initiated in 1983 with a budget of Rs 560 crore. The handing over of the service certificate will enable Indian Air Force fighter pilots to fly the LCA for final operational clearance by 2012.
The project, which has a fair number of critics in the country and within the Air Force, has gone through many ups and downs in its long journey. But 10 years after the initial test flights, the Tejas, a fourth-generation plus aircraft, has finally arrived.
The government had a couple of months ago chosen GE-F414 as the new engine for future LCAs after rejecting its competitor Eurojet's EJ200 engine. The IAF may ultimately have around 200 LCAs (10 squadrons) in its fleet, primarily to replace the ageing Russian MiG-21 and MiG-27 fighter jets.
The lean and mean flying machine is powered by the F404-GE-IN20 engine from the US-based General Electric as the indigenously developed Kaveri engine is still undergoing advance trials.
The IAF has also placed an additional order in 2010 for 20 more Tejas for the second squadron to be raised at Kayathir near Tuticorin in the southern state where the air force is setting up a new base this decade. IAF will base the first of its LCA squadrons at its Sulur air base near Coimbatore in Tamil Nadu.