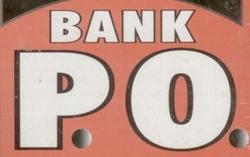 These days Indian Job market is flooded with vacancies of Probationary Officers in Public Sector Banks. But most of the PO aspirants are not fully aware of responsibilities of a Bank PO. Today we will discuss the role and responsibilities of a Probationary Officer in banks. A Bank Probationary Officer is the starting level recruitment for bank officers. Good communication skills and an ability to resolve conflicts calmly are normal expectations from a Bank PO. Job profile of a Probationary Officer is General Banking, administration and paper work in bank and any other work assigned by senior management. Actually a Bank PO can be asked to do anything related to banking till the completion of its probation period. During training or probation period they are trained for accounting, marketing, finance, investment as well as billing.
Normally after the confirmation the Bank PO becomes Assistant Bank Manager and may be posted in any branch across the country to handle daily customer transaction like passing a cheque, cash management, draft issuance etc. One of the main responsibilities of a Bank PO are handling the loan department, the mortgage and finance divisions of the bank. Handling customer complaints and related issues is also the responsibility of the Bank PO. It means dealing with complaints over issues such as charges, discrepancies in accounts, or even in complaints with service at the bank. After some years of experience and suitable talent they can be involved in planning, marketing, budgeting, processing of loan , investment management etc.

Now let us take an example of a successful Bank PO. Yeah, I am talking about the current CMD (Chairman and Managing Director) of State Bank of India, O. P. Bhatt. He started his career as a probationary officer in State Bank of India in 1972. He also served as the Managing Director of State Bank of Travancore from January 2005 to April 2006. He was one of the nominees of CNN – IBN Indian of The Year 2007 in the Business category and was finally declared the winner on January 22, 2008.