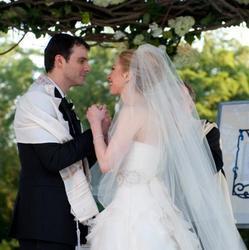 This was the 'wedding of the millennium'. Former United States Bill Gates' first daughter Chelsea Clinton got married to her boyfriend Marc Mezvinsky at the elegant 50-acre Astor Courts estate of Rhinebeck in New York on Saturday, July 31. A network of fully air-conditioned massive white tents were erected on the grounds of the Astor Courts estate. Marc Mazvinsky works at G3 Capital, a Manhattan hedge fund. Chelsea and Marc were friends as teenagers in Washington, DC, and attended Stanford University together. The marriage is an interfaith marriage as the bride was brought up as a Methodist Christian and the groom is Jewish.
According to the US media, this high profile 'event of the decade' has cost between $3-5 million. President Barack Obama was not invited to the wedding due to security reasons. President Obama quipped: "You don't want two presidents at one wedding! All the secret service, guests going through metal detectors, all the gifts being torn apart."
Meanwhile there are rumors that Chelsea Clinton underwent plastic surgery before the wedding.
"Today, we watched with great pride and overwhelming emotion as Chelsea and Marc wed in a beautiful ceremony at Astor Courts, surrounded by family and their close friends." Clinton Family