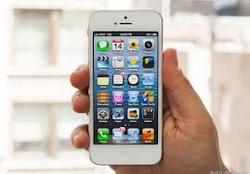 Two weeks back, Apple launched the iPhone 5, the sixth generation of the iPhone. It is larger, thinner and lighter as compared to its previous versions. It has a larger 4-inch screen, 16:9 widescreen aspect ratio and a smaller eight-pin dock connector with LTE support. Mobile experts are very excited to review this phone that's why most of the reviews have been primarily positive. However there are some issues in the new "Maps" application. A few days after the iPhone 5 was announced over two million pre-orders had been taken for this phone. Let's see the 10 reasons why you should buy the brand new iPhone 5.
1. New Design :: Can you believe, the brand new iPhone 5 is just 7.6 millimeters thin. It has a nano-SIM card, which is 44 percent smaller than a micro-SIM. It has a unique cellular solution for iPhone 5. The conventional approach to building LTE into a world phone uses two chips – one for voice, one for data. On iPhone 5, both are on a single chip. The back of iPhone 5 is made of anodized 6000 series aluminum – the same material used in Apple notebooks – with inlays along the top and bottom made of ceramic glass (on the white and silver model) or pigmented glass (on the black and slate model).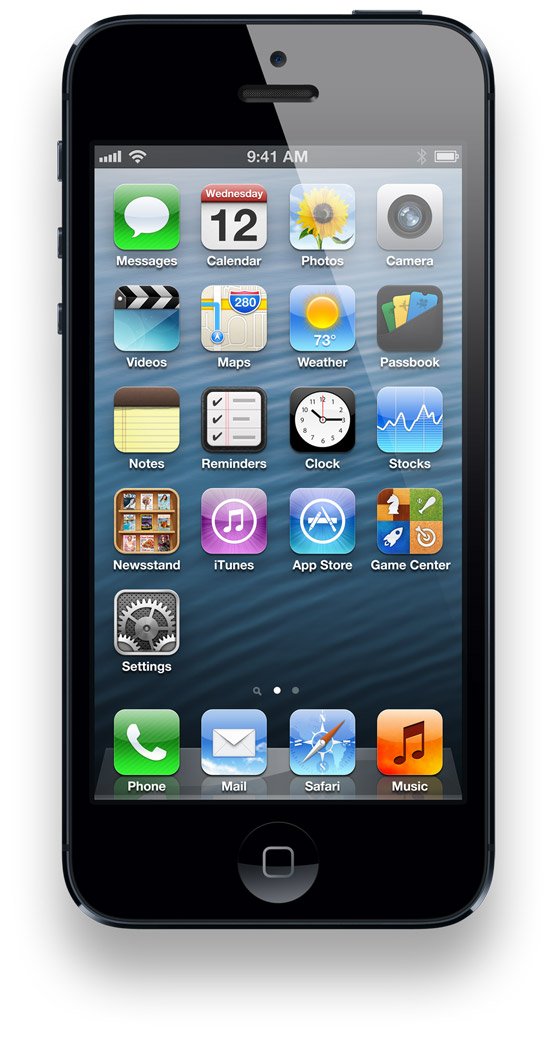 2. 4 inch Retina display :: The 4-inch Retina display helps you see more of everything. It's a larger, more beautiful canvas made the right way. It is nearly 9 millimeters taller than iPhone 4S, but it's the same width. So it's just as easy to type with one hand.
3. Ultrafast wireless :: With support for the latest wireless technologies, iPhone 5 connects to more networks all over the world. It supports more networks all over the world. That includes advanced networks such as HSPA, HSPA+, and DC-HSDPA. Browse, download, and stream content at ultrafast speeds. Dual-band 802.11n wireless connectivity accelerates your Wi-Fi experience, too – up to 150 Mbps.
4. Powerful A6 Chip :: The new iPhone has a powerful A6 chip which is not power hungry. CPU performance and graphics performance are up to twice as fast as on the A5 chip and with that exemplary speed, this phone gives you outstanding batter life. The battery backup is
Talk time: Up to 8 hours
Standby time: Up to 250 hours
Internet use: Up to 6 hours
Video playback: Up to 7 hours
Audio playback: Up to 24 hours
5. New Lightning Connector :: The new iPhone has a new dock connector named Lightning, which replaces the 30-pin Apple Dock connector introduced in 2003. The Apple Lightning connector has eight pins and all signaling is digital. This new connector is smaller than the previous one, helping the iPhone 5 to be slimmer than its predecessors. Apple Lightning cables have duplicate pins on two sides of each plug, so it can be inserted either way round.
6. Enhanced audio on iPhone 5 :: The new earphone is designed with three microphones: one on the front, one on the back, and one on the bottom. The front and back mics work together to achieve beamforming – a technique that helps iPhone 5 focus on sound from the desired location for clearer audio. New noise-canceling technology reduces background noise. So when you hold iPhone up to your ear in a loud room, you hear what matters most: the voice on the other end.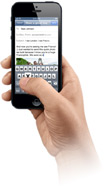 7. Enhanced HD video recording :: You can record stunning 1080p HD video with the brand new iSight camera. Improved video stabilization in iPhone helps prevent shaky footage. Face detection for up to 10 faces means everyone can have a moment in the spotlight. You can even take still photos as you record, so you can capture small moments while shooting a big one.
8. Powerful Siri features :: With iOS 6, Siri understands more questions, knows more answers, and gives you a lot more to talk about. Ask Siri about sports scores and stats, where to eat, what movies to see – even ask Siri to make Facebook posts or tweet for you. And Siri is fluent in more languages, so it does more things in more countries.
9. Upgraded OS :: The new iOS 6 includes all the built-in apps you use every day and all the intuitive technology – like Multi-Touch and Siri – that makes iPhone so advanced. In this OS, you will get more than 200 new features to make the things you do every day even better.
10. It's Apple, the brand name in the world of electronics :: Apple has a long history of killing off technologies, inconveniently and expensively, that the public had come to love-even those that Apple had originally developed and promoted. Somehow, life goes on, and Apple gets even bigger. The NewYork Times.