Now its Amazon's turn to rock the tablet PC market. Yesterday, Amazon announced the launch of the Kindle Fire, a tablet computer version of company's famous and successful Kindle e-book reader. The Kindle Fire will have a color 7" multi-touch display with IPS technology and run on a forked version of Google's operating system (OS) Android. It includes access to the Amazon Appstore, streaming movies and TV shows, and Kindle's e-books. It is scheduled to be released in mid-November 2011. The price of this device will be only US$199 (10,000 INR).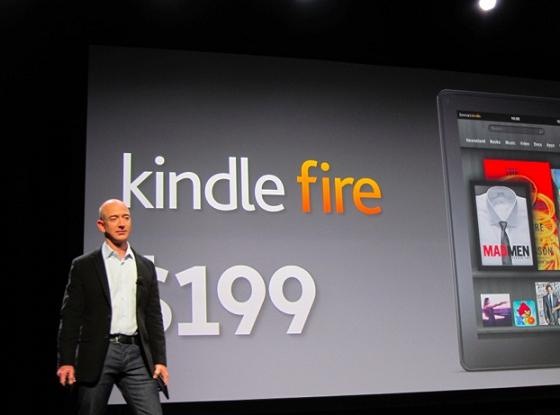 Amazon Kindle Fire Technical and other details ::
Developer :: Amazon
Manufacturer :: Quanta Computer
Generation :: 1st
Release date :: November 15, 2011
Introductory price :: $199 USD
Operating system :: Android 2.3
CPU :: TI OMAP 4 (dual core)
Storage capacity :: 8 GB
Memory :: 512 MB
Display 7" multi-touch gorilla glass display, 1024×600 at 169 ppi, 16 million colors.
Capacitive touch sensitive.
Connectivity :: Micro-USB 2.0 (type B)
3.5 mm TRRS
Dimensions :: 190 mm (7.5 in) H
120 mm (4.7 in) W
11.4 mm (0.45 in) D
Weight :: 413 g (14.6 oz)
Predecessor :: Kindle 2 and 3
Website http://amazon.com/gp/product/B0051VVOB2  
You can buy Amazon Kindle Fire online from Apple's official website.