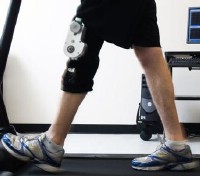 Simon Fraser University researchers have invented a method (Bio mechanical Energy Harvester) to generate energy from human movements. You can't imagine, this new technology is able to produce energy to power a mobile phone for 30 minutes from just one minute of walking, this means that you can now charge your mobile phone with just few minutes of walking. The Bio mechanical Energy Harvester, has been featured in the Feb. 8, 2008 issue of the U.S. journal, Science, resembles a lightweight orthopedic knee brace. This is really a great innovation !
The device harvests energy from the end of a walker's step, when the muscles are working to slow the movement of the leg, in much the same way that hybrid-electric cars recycle power from braking.It generates power by a process known as generative braking. With the help of series of gears and changes in it, electricity is generated.
Wearing a device on each leg, an individual can generate up to 5 watts of electricity with little additional physical effort, according to the release. Walking quickly, however, generates as much as 13 watts. At that rate, when the energy is stored in a battery, one minute of walking time will provide enough electricity to sustain 30 minutes of talk-time on any mobile phone. This new technology will definitely revolutionize the way we charge portable battery-powered devices.